Gym and Health Club Membership Management Software
About GymMaster
Trusted by thousands of fitness businesses in over 36 countries, GymMaster was designed hand-in-hand with gym owners to provide a complete health club and gym software solution.
GymMaster is a scalable fitness management software that can help you achieve your goals, whether you're a community gym, a fitness studio, a health club, a state-of-the art multi site facility, or a PT.
Spend more time doing the things you love - whether that's hands-on training your clients, strategizing ways to grow your business, or relaxing on the beach - GymMaster is a reliable system that streamlines business operations for gyms and clubs of all stages and sizes.
Users enjoy using GymMaster for its intuitive layout, making easy work of powerful actions. It's got features that will excite every user—PT and trainers will love the mobile & member-oriented capabilities, admin staff will save hours of work, managers & owners will be well-informed of trends and performance, and members will love being able to book & manage their workouts on the native app.
Here's just two reasons why people choose GymMaster:
GymMaster gives you the choice of a variety of billing providers, so you can be comfortable with the best plan for your business. Billing is all highly customisable, too—choose your billing cycle, fees, and create automated communication for missed payments.
Extend your hours or go 24/7 to increase your competitive offering, without the need for staffing your gym around the clock. GymMaster's access control system gives you control over who can enter which doors, and when, based on membership type, staff seniority, time of day or billing status. And because the hardware and your database of members is fully integrated, say goodbye to double entry, unnecessary stress and paying middleman mark-ups.
GymMaster is the most comprehensive, easy to use membership management system on the market - visit our website to get a free one-on-one demonstration suited to your business' needs today.
Key benefits of GymMaster
Integrated billing: You have the freedom to choose the billing provider that works best for you business. With automated billing, your payments are collected on the day & frequency of your choosing.
Automated communication: Send SMS & emails to targeted groups based on demographics, visitation, membership type or billing status, based on a variety of triggers such a swipe-entry, non-visitation, or a missed payment.
Main dashboard: The dashboard provides a visual overview of all the key information you and your staff need to keep driving your business towards its goals.
Online booking: Empower your members to make bookings and payments, and view their measurements and programs using the online member portal.
Door control & 24/7 access: Extend your open hours with confidence using GymMaster's integrated RFID access control system. Directly connected to your database, you can control who can do where, when; while tracking all activity, updating the system & taking action - in real time.
Point of sale: Increase your profits with a custom-colored POS system, with stock/inventory control and detailed reporting features.
Multi-Site: Supports multiple companies with a single database - allowing central reporting across all sites or just one, plus cross site bookings and visitation for members. GymMaster also supports multiple tax rates across sites, while still sharing one database.
Typical Customers
Freelancers

Small Businesses

(2-50)

Mid-size Companies

(51-500)

Large enterprises

(500 and more)
Markets
Afghanistan, Albania, Algeria, American Samoa, Andorra and 224 others
Supported Languages
English, French, German, Portuguese, Spanish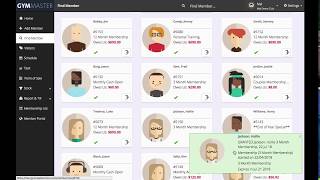 Total features of GymMaster: 178
API
Access Controls/Permissions
Accounting Software
Activity Dashboard
Activity Tracking
Alerts/Notifications
Application Management
Appointment Management
Appointment Scheduling Software
Assessment Management
Attendance Management
Attendance Tracking Software
Authentication Software
Automated Scheduling
Badge Management
Barcode/Ticket Scanning
Belt Ranking Classification
Billing & Invoicing
Booking Management
Booth Rental Management
CRM Software
Calendar Management
Calendar Sync
Campaign Analytics
Capacity Management
Certification Tracking
Class Management
Class Registration Software
Class Scheduling
Client Database
Client Management
Client Portal
Client Profiles
Collaboration Tools
Commission Management
Committee Management
Communication Management
Community Management
Confirmation/Reminders
Contact Database
Contact Management Software
Contract/License Management
Credit Card Processing
Customer Accounts
Customer Database
Customer Engagement Software
Customer Mobile App
Customer Segmentation
Customer Surveys
Customizable Branding
Customizable Categories
Customizable Fields
Customizable Forms
Customizable Reports
Customizable Templates
Data Import/Export
Digital Signature Software
Discount Management
Document Management Software
Drag & Drop
Dues Management
Electronic Forms
Electronic Payments
Email Campaign Management
Email Management Software
Email Marketing Software
Email Reminders
Email Templates
Employee Directory
Employee Management
Enrollments/Onboarding
Event Calendar
Event Management Software
Event Scheduling
Exercise Library
Facility Scheduling
File Sharing Software
Financial Reporting Software
Fitness Performance Tracking
Fitness Plan
For Dance Studios
For Gyms
For Martial Arts
For Salons and Spas
For Yoga/Pilates Studios
Group Scheduling
Historical Reporting
Hybrid Trainer
ID Scanning
Image Capture
Instructor Management
Inventory Management Software
Inventory Tracking
Invoice Management
Lead Management Software
Loyalty Program
Marketing Automation Software
Member Accounts
Member Communication
Member Database
Member Directory
Member Management
Member Portal
Member Types
Membership Management Software
Membership Renewals
Mobile Access
Mobile Alerts
Mobile App
Mobile Booking
Monitoring
Multi-Language
Multi-Location
Multiple User Accounts
Newsletter Management
Online Booking
Online Payments
Online Registration
Online Store
Online Trainer
PCI Compliance Software
Parent Portal
Payment Processing Software
Payroll Management
Personalization and Behavioral Targeting Software
Point of Sale (POS)
Pre-Registration
Price/Margin Management
Progress Tracking
Push Notifications Software
Real Time Data
Real Time Reporting
Real Time Updates
Recurring Appointments
Recurring/Subscription Billing
Registration Management
Reminders
Reporting & Statistics
Reporting/Analytics
Reputation Management Software
Reservations Management
Rewards Program
SMS Marketing Software
SMS Messaging
Sales Reports
Scheduling Software
Search/Filter
Secure Login
Segmentation
Self Check-in/Check-out
Self Service Portal
Single Sign On Software
Skills Tracking
Social Media Integration
Staff Management
Staff Scheduling
Student Management
Subscription Management Software
Summary Reports
Task Management Software
Task Scheduling
Team Management Software
Template Management
Third Party Integrations
Time Clock Software
Transaction History
User Management
User Profiles
Virtual Classroom Software
Visitor Management Software
Visitor Tracking
Wait List Management
Waitlist Status Tracking
Waiver Management
Website Integration
Website Management
Wireless Internet Access
eCommerce Management
EZFacility
#1 Alternative to GymMaster
EZFacility is a web based solution for sports and fitness businesses which allows clients to streamline their operations...
ClubWorx
#2 Alternative to GymMaster
Clubworx is a scalable club management solution - and professional website provider - for gyms, fitness studios, golf...
Zen Planner
#3 Alternative to GymMaster
Zen Planner is a member management software including Staff & Member Apps, billing, appointments, virtual training,...
Kisi
#4 Alternative to GymMaster
Kisi is a cloud-based secure access control system designed to help enterprises across various industries such as real...
Customer Support Software
---
Already have GymMaster?
Software buyers need your help! Product reviews help the rest of us make great decisions.
Showing 5 reviews of 145
Industry: Sports
Company size: 2–10 Employees
Used

Daily

for

6-12 months

Review Source
Overall rating
Value for Money

Ease of Use

Customer Support Software

Likelihood to recommend

10.0

/10
Gym Master- easy software to use with great support!
Reviewed on 03/12/2021
very satisfied, makes tracking membership, payments very easy and has reduced admin right down to a...
very satisfied, makes tracking membership, payments very easy and has reduced admin right down to a minimum
Pros
I like the support and how helpful the staff are
Cons
no cons to mention, gym master does exactly what its suppose to do.
Reasons for Choosing GymMaster
old fashioned and didnt do alot of functions
Reasons for Switching to GymMaster
cheaper and did the job we required from the software
Response from Treshna Enterprises
Harvey, glad you made the right decision!
Thanks for your feedback, we're so happy to have you with us!
Be sure to get in touch with support if there's anything we can do to help.
Industry: Health, Wellness & Fitness
Company size: 11–50 Employees
Used

Daily

for

2+ years

Review Source
Overall rating
Value for Money

Ease of Use

Customer Support Software

Likelihood to recommend

10.0

/10
I can't recommend highly enough
Reviewed on 03/05/2021
We are very happy with Gymmaster. The product itself is great, but the level and speed of support...
We are very happy with Gymmaster. The product itself is great, but the level and speed of support exceeds expectation. We attribute our New Zealand Exercise Industry Awards success over the last 4 years partly to the fact that we have Gymmaster as our software.
Pros
Gymmaster is very user friendly, with good permission options that allow us to offer different access to those team members that need it. We have found it easy to train new team members, as well as upskill existing team as required. The customisable options are great, as is the ability to get support when we need it! The integrations are helpful and easy, including Mailchimp, Zapier and Zoom.
Cons
Some of the reporting functions can be a little inconsistent at times, but support will usually remedy this quickly where required.
Response from Treshna Enterprises
Hi Jeremy, thanks so much for taking the time to leave us this feedback! It's great to hear you're enjoying the system and are making use of our integrations to help streamline managing your club. We appreciate you pointing out areas we can improve for your business and will take this aboard for our future improvements to the system.
Industry: Health, Wellness & Fitness
Company size: 2–10 Employees
Used

Daily

for

2+ years

Review Source
Overall rating
Value for Money

Ease of Use

Customer Support Software

Likelihood to recommend

8.0

/10
Review
Reviewed on 03/09/2019
Pros
The software is easy to use and teach yourself.
Cons
Support, while awesome, it is hard to remember what the time change is.
Reasons for Switching to GymMaster
More robust
Response from Treshna Enterprises
Thank you for this review Stefanie, we appreciate you taking the time to send through your feedback. We have recently expanded our international support team, and increased our support hours to make it easier to keep in touch with us.
Industry: Health, Wellness & Fitness
Company size: Self Employed
Used

Daily

for

1+ year

Review Source
Overall rating
Value for Money

Ease of Use

Customer Support Software

Likelihood to recommend

10.0

/10
Gym master app
Reviewed on 04/07/2023
Pros
The scheduling was very easy for my clients to use
Cons
The workout feature I used a different application for that
Alternatives Considered
FitSW
Industry: Health, Wellness & Fitness
Company size: 2–10 Employees
Used

Daily

for

1+ year

Review Source
Overall rating
Value for Money

Ease of Use

Customer Support Software

Likelihood to recommend

10.0

/10
GymMaster - all the gym software options and support team you need. All for a very reasonable...
Reviewed on 27/05/2020
From day one, GymMaster has been an extremely professional company to work with, and the software...
From day one, GymMaster has been an extremely professional company to work with, and the software has been nothing but positively impactful for my business. The price is so reasonable for what you get as a gym/fitness center, including full time support by email, and they always answer the phone for a support call or question I have.
At the time of the Corona virus mandatory gym closure, GymMaster was one of the first companies to reach out, with a plan/options already in place. I chose the MASS HOLD option they created, and this made things so easy during this hard time. They had quickly came up with a solution to what the gym would need within hours of us having to close the doors. So far this option they set up has been flawless, and has saved me several headaches.
They have been more than fair about invoice payments to them during this time, as I never had to ask, they stepped up and offered plans of assistance to help gyms fight through this tough time.
I will continue to use GymMaster, I have no interest in even finding another Gym Software company or service, this has worked wonderfully for me and I highly recommend you set your gym up with GymMaster.
Pros
I found the set-up for GymMaster software to be very easy to integrate with my business, as well as merchant service account. Clear and easy to use instructions, but what I also find extremely helpful is GymMaster staff and support team always available to help. The software is very user friendly, easy to set up basic operations of the business and also to make changes along the way, (signing-up members, changing class times, adding staff, selling online product/services). I also find beneficial that I can set up to print out any type of analytical report. The software easily checks members in by FAB or front desk staff, and the member portal works great for my member to sign-up for classes, book appts. etc on the free member portal app. If I ever need help, again GymMaster support team has always been available to help!
Cons
Navigating through the backend in the very beginning was a little frustrating at first, as there are a lot of options, and some of the phrasing can be a little confusing until you get used to it. Some tabs and links that can be accessed from several points, which was a bit confusing, but GymMaster staff and support team has always done a great job of helping understand the back end, answer questions and how to adjust settings specific to my business model. I can call GymMaster pretty much at anytime and they will help me make the necessary adjustments, while explaining how to do it myself for the next time. Really helpful and great instructors. They make sure you have all questions answered and things in place before the call ends.
Really friendly, helpful support team.
Response from Treshna Enterprises
Hi Katie
Thank you for your wonderful review. We are thrilled to hear GymMaster works well for your business and has provided you all the tools you require to make life easier for you.
We do take pride in providing the best support we can for our clients and that we are always here to assist wherever we can.
We hope you and your members keep safe and well during Covid-19 and don't hesitate to reach out to us for further assistance.
GymMaster FAQs
Below are some frequently asked questions for GymMaster.
Q. What type of pricing plans does GymMaster offer?
GymMaster offers the following pricing plans:
Pricing is based on number of current members (casual, concession and prospects do not count towards current membership) There are four levels of subscription package available: Studio - $69 USD/month - 150 members, automated check-in Standard - $99 USD/month - 400 members, single door access (24/7) Professional - $189 USD/month - 1300 members, multi-door access (24/7) Enterprise - Price on Application - Unlimited members, for multi-site & complex arrangements
Q. Who are the typical users of GymMaster?
GymMaster has the following typical customers:
Self Employed, 2–10, 11–50, 51–200, 201–500, 501–1,000, 1,001–5,000
Q. What languages does GymMaster support?
GymMaster supports the following languages:
English, French, German, Portuguese, Spanish
Q. Does GymMaster support mobile devices?
GymMaster supports the following devices:
Android (Mobile), iPhone (Mobile), iPad (Mobile)
Q. What other apps does GymMaster integrate with?
GymMaster integrates with the following applications:
BluePay, Braintree, GoCardless, Google Calendar, Instagram, Mailchimp, Meta for Business, PayPal, Paysafe, WordPress, Xero, Zapier, Zoom Meetings
Q. What level of support does GymMaster offer?
GymMaster offers the following support options:
Email/Help Desk, FAQs/Forum, Knowledge Base Software, Phone Support, 24/7 (Live rep), Chat
Related categories
See all software categories found for GymMaster.