Vagaro
Salon, wellness & fitness scheduling and business software
About Vagaro
Vagaro is a web-based solution for salon and fitness center owners to promote their services and connect with customers through 'Vagaro.Com' website and Vagaro's mobile app. It is a B2C platform wherein salons, spa and studios can register and create a profile, advertise their brand, promote new events and book appointments/classes with customers.
With Vagaro, business owners can create a customized website with complete information about their venue, staff bios, services they offer and their working hours. Salons can display which booking slots are available for the day, week or month and allow customers to book an appointment at a time that's convenient to them. Vagaro allows users to send text and email notifications to customers, confirming the appointment, then send alerts and reminders for appointments booked.
Users can build a customer database by importing contacts from an excel or .csv file or pulling contacts directly from their mobile. Customers can post feedback on a Salon's Vagaoro page, for them to view. Salon owners can also manage internal activities such as generating sales & service reports, monitoring business progress with real time analytics, clock-in & clock-out, staff attendance, and map with payroll service.
Vagaro solution offers an integrated point of sale (POS) feature to sell gift certificates, products or packages to customers online and via mobile. Currently, Vagaro offers its services across Australia, Canada, United Kingdom and USA.
Pricing starting from:
$25.00/month
Free Version

Free Trial

Subscription
Top 5 alternatives to Vagaro
Key benefits of Vagaro
• Vagaro's salon, wellness and fitness software allows users to create a personalized website fully managed and hosted by Vagaro, and customize it with their service menu, staff bios, venue pics & videos for brand promotion.
• Users can send booking confirmation and reminders to customers via email or text message.
• Users can take advantage of Vagaro's email marketing feature to send bulk promotional or announcement emails to customers in a single click.
• The solution offers a history tracking feature which let users keep a track of their customer information, previous visits and preferred services.
• Users can leverage the benefit of multiple booking options through a Vagaro web page, Facebook, mobile app or a widget that users can add to their personal website.
Typical Customers
Freelancers

Small Businesses

(2-50)

Mid-size Companies

(51-500)

Large enterprises

(500 and more)
Markets
Australia, Canada, United Kingdom, United States
Pricing starting from:
$25.00/month
Free Version

Free Trial

Subscription
Top 5 alternatives to Vagaro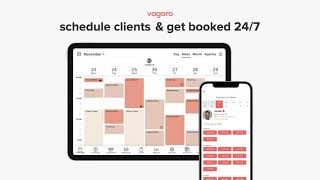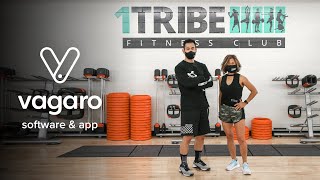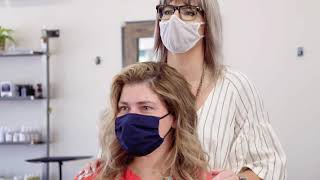 Total features of Vagaro: 187
Access Controls/Permissions
Activity Dashboard
Activity Tracking
Address Book
Alerts/Notifications
Application Management
Appointment Management
Appointment Scheduling Software
Attendance Management
Attendance Tracking Software
Automated Scheduling
Availability Indicator
Availability Management
Barcode / Ticket Scanning
Before & After Pictures
Billing & Invoicing
Booking Management
Booth Rental Management
Business Coaching
Calendar Management
Calendar Sync
Calendar/Reminder System
Capacity Management
Charting
Class Management
Class Registration Software
Class Scheduling
Client Database
Client Management
Client Portal
Client Profiles
Color Codes/Icons
Commission Management
Committee Management
Communication Management
Confirmation/Reminders
Consent Management
Contact Database
Costume Management
Credit Card Management
Credit Card Processing
Customer Accounts
Customer Database
Customer History
Customer Mobile App
Customer Surveys
Customizable Branding
Customizable Fields
Customizable Forms
Customizable Reports
Customizable Templates
Data Import/Export
Debit/Credit Card Processing
Discount Management
Document Management Software
Document Storage
Drag & Drop
Dues Management
EMR/EHR
Electronic Forms
Electronic Payments
Electronic Signature
Email Management Software
Email Marketing Software
Email Reminders
Email Templates
Employee Management
Employee Scheduling Software
Enrollments/Onboarding
Event Management Software
Event Scheduling
Facility Scheduling
Faculty/Staff Management
Fitness Plan
For Barbershops
For Chiropractors
For Dance Studios
For Gyms
For Martial Arts
For Medical Spas
For Physical Therapy
For Salons and Spas
For Yoga/Pilates Studios
Forms Creation & Design
Forms Management
Gift Card Management
Goal Setting / Tracking
Group Scheduling
HIPAA Compliant
Historical Reporting
Hybrid Trainer
In-Person Payments
In-person Trainer
Instructor Management
Inventory Management Software
Inventory Tracking
Invoice Management
Life Coaching
Loyalty Program
Marketing Automation Software
Member Accounts
Member Communication
Member Database
Member Directory
Member Portal
Member Types
Membership Management Software
Membership Renewals
Mentor/Coach Matching
Mobile Access
Mobile Alerts
Mobile App
Mobile Booking
Mobile Grooming
Mobile Payments
Multi-Location
Multiple Payment Options
Multiple User Accounts
No-Show Tracking
Online Booking
Online Payments
Online Registration
Online Trainer
Partial Payments
Patient Management Software
Patient Portal Software
Patient Records Management
Payment Processing Software
Payroll & Commissions
Payroll Management
Performance Metrics
Pet Birthday Tracking
Pet Grooming Software
Physician Management
Point of Sale (POS)
Practice Management
Progress Notes
Progress Tracking
Promotions Management
Push Notifications Software
Ratings / Reviews
Real Time Data
Real Time Notifications
Real Time Reporting
Real-time Scheduling
Real-time Updates
Records Management Software
Recurring Appointments
Recurring/Subscription Billing
Referral Tracking
Reminders
Reporting & Statistics
Reporting/Analytics
Rescheduling
Reservations Management
Resource Scheduling
Role-Based Permissions
Room Booking
SMS Marketing
SMS Messaging
SMS Reminders
SOAP notes
SSL Security
Sales Reports
Scheduling Software
Secure Login
Self Check-in/Check-out
Self Service Portal
Service Catalog
Social Media Integration
Sport Coaching
Staff Management
Surveys & Feedback
Task Scheduling
Team Calendars
Template Management
Third Party Integrations
Timesheet Management
Transaction History
Treatment Packages
Treatment Planning
Wait List Management
Waiver Management
Web Forms
Website Integration
Website Management
eCommerce Management
Google Workspace
#1 Alternative to Vagaro
Google Workspace is a suite of apps from Google which offers a number of tools to communicate and collaborate with...
Square Payments
#2 Alternative to Vagaro
Square Payments is an online payment processing solution which integrates with Square hardware & POS software to allow...
Fresha
#3 Alternative to Vagaro
Fresha is the world's leading online booking software for the beauty and wellness industry. Boost your sales and...
Booker
#4 Alternative to Vagaro
Cloud-based online booking, scheduling, point of sale and marketing software - everything you need to run your salon...
Customer Support Software
---
Already have Vagaro?
Software buyers need your help! Product reviews help the rest of us make great decisions.
Showing 5 reviews of 2,902
Industry: Automotive
Company size: 2-10 Employees
Used

Weekly

for

6-12 months

Review Source
Overall rating
Value for Money

Ease of Use

Customer Support Software

Likelihood to recommend

9.0

/10
It's great but unnecessary
Reviewed on 12/07/2022
It's awesome really really awesome but like I said is not necessary for small companys, maybe if...
It's awesome really really awesome but like I said is not necessary for small companys, maybe if you grow up in the future it is a better idea. Is your decision.
Pros
It's a good option for organize all the company schedule, there are so many functions for all, anyone can use this and is not necessary to know about this software, is so intuitive.
Cons
I really thing that is unnecessary beacuse you can do a lot of this things in other app for free, but some functions are only in this app that made it better. If you don't have the money for pay this, I really recommend use your phone calendar or something like that.
Reasons for Choosing Vagaro
It's free
Reasons for Switching to Vagaro
free
Response from Vagaro
Hello Axel. We appreciate the review. We'll definitely take your feedback into consideration.
Industry: Alternative Medicine
Company size: 2-10 Employees
Used

Daily

for

Free Trial

Review Source
Overall rating
Value for Money

Ease of Use

Customer Support Software

Likelihood to recommend

10.0

/10
Many great features, excellent customer services, and small areas that can improve
Reviewed on 18/11/2022
So far, this software is above and beyond our previous two companies. They seems very willing to...
So far, this software is above and beyond our previous two companies. They seems very willing to change and add features, as well as helpful in onboarding and migrating our business into their system. They were even able to import reviews!
Pros
There are many optional add-on features. This allows us to do things like add forms, accept payment, and have a waitlist. These are super helpful features and it is nice to know if we don't need them we can cancel them.
Cons
The software is a bit slow, and challenging when it comes to customer management. I have gotten some errors around adding customers with "existing email addresses" even though they can't find the email in the system.
Reasons for Choosing Vagaro
Booksy did not have the features we needed and was not able to add them over the last 7 months. We needed the ability to push notifications, run payroll, add time between appointments, and be HIPPA compliant. The biggest reason is that Booksy was very challenging for our clients to use and we got many complaints from people who couldn't make appointments.
Reasons for Switching to Vagaro
Price
Industry: Health, Wellness & Fitness
Company size: 2-10 Employees
Used

Daily

for

1+ year

Review Source
Overall rating
Value for Money

Ease of Use

Customer Support Software

Likelihood to recommend

0.0

/10
Small Business owners, look elsewhere
Reviewed on 07/10/2022
Pros
Cheaper than others, but you get what you pay for in that it is glitchy and customer support is incompetent in troubleshooting.
Cons
POOR CUSTOMER SERVICE AND LACK OF EFFECTIVE SOLUTIONS. GLITCHY SOFTWARE. Vagaro USED to be a viable solution, but it is glitchy and tech support is (respectfully) incompetent when it comes to troubleshooting.
It has been 4 days now of lost revenue and frustrated clients for my business. The only option that your customer service has been giving me is that they are trying to "replicate" the issue but haven't come up with a reasonable solution. They sent the issue to the developers two days ago. By the time we expect a response, it will be one week of lost revenue.
We have had over a DOZEN clients report that they aren't able to complete checkout and all they keep getting is a "spinning red wheel." The solution offered by your tech support was to "refresh their cache," and to "change browsers" which is an unreasonable option to even offer, since there are clients who may not be even reporting issues and won't have that direction from us. No one from Vagaro has openly admitted that their is an issue with the software. This is inauthentic as how can over a dozen clients have issues with their web browsers or history(#gaslight)? It's clearly on your end yet no one has owned up to it at Vagaro.
We are looking to switch due to lack of transparency, effective customer service and technical support.
Industry: Consumer Services
Company size: 2-10 Employees
Used

Daily

for

1-5 months

Review Source
Overall rating
Value for Money

Ease of Use

Customer Support Software

Likelihood to recommend

7.0

/10
Is Varago is good for your company?
Reviewed on 11/08/2022
With Vagaro the purpose was always selling time. FIlling up the white space on the calendar with...
With Vagaro the purpose was always selling time. FIlling up the white space on the calendar with clients and making sure you did that as efficiently and productively each day as possible in order to create growth and profit for the company. Vagaro is a tool in which you are able to do that. But for bigger salons that need more details, reports, numbers, it does fall bit a short.
Pros
I liked that this system was super simple and straight forward. It is very easy to switch over to Vagaro from another company which is what we did. The ease of use is definitely a plus but it also was a reason why we left. It was not very detailed on other aspects that we needed more options and attention on.
Cons
I love a software company that has a well developed app for it's salon users. This is important for the team because they use this every hour to see and check their schedules. I think also the reports should have been more detailed and intricate but they may have improved that at this time. I don't think anything was difficult to use but because of it's ease of use, it meant that the software didn't really allow for as much information and details as we needed at the time to run a salon aiming towards growth. Things were hard to find or figure out because it wasn't provided in the reports or we had to add other features from outside companies to make up for lacking features.
Reasons for Choosing Vagaro
We were looking to find the right fit for our needs so that we could hit our growth and potential goals.
Reasons for Switching to Vagaro
I ended up choosing Vagaro originally because I thought the ease of use was a huge selling point. However, we ended up switching over to Boulevard in the end.
Response from Vagaro
Thank you for the feedback, we love to hear that our software is easy to use. We recently released updates to our reports section based on the feedback that businesses were looking for more intricate data. You can check what other features we are currently working on here: https://feedback.vagaro.com/forums/915991-feature-requests
Industry: Consumer Services
Company size: Self Employed
Used

Daily

for

2+ years

Review Source
Overall rating
Value for Money

Ease of Use

Customer Support Software

Likelihood to recommend

10.0

/10
Great Scheduling System for both provider and clients
Reviewed on 05/11/2022
I have been using Vagaro for about a decade now. I would say that if your looking for a scheduling...
I have been using Vagaro for about a decade now. I would say that if your looking for a scheduling system and the ability to have your clients book online and also receive reminders than Vagaro is perfect for you.
Pros
I like that fact that clients can schedule anytime. I also like the fact that on my voice mail I inform new and existing clients of the website. This is very helpful because I can't always answer the phone. This gives the clients more option and the ability to look at my schedule and make an appointment that meets the clients needs.
Cons
It was difficult using the Merchant Services to take payments. The price was in line with some of the other providers such as Square. Before taking payments from clients, I wanted to make sure it work. I used my debit card to charge $1.00. After I did that and started taking payments they froze my account, noting that I violated the Merchant Service agreement. It took several months to get this resolved. I had to find out which company Vagaro was using to process Merchant Services. I had to call so many times as well as write and mail out demand letters to get my founds. I found that it was less expensive going with one of the major processors such as First Data and Fiserv Merchant Services. I also was not impressed with Vagaro's customer service. I had issues with their Merchant Services as well as some other customer services issues. As I have been using Vagaro for the past decade I would have hoped that their customer service would be much better. Don't expect much from the customer service team or the management.
Reasons for Choosing Vagaro
Schedulicity was not providing what Vagaro was offering.
Reasons for Switching to Vagaro
Vagaro had the best system.
Vagaro FAQs
Below are some frequently asked questions for Vagaro.
Q. What type of pricing plans does Vagaro offer?
Vagaro offers the following pricing plans:
Starting from: $25.00/month
Pricing model: Free Version, Subscription
Free Trial: Available
1 user: $25 /month 2 users: $35 /month 3 users: $45 /month 4 users: $55 /month 5 users: $65 /month 6 users: $75 /month 7+ users: $85 /month
Q. Who are the typical users of Vagaro?
Vagaro has the following typical customers:
Self Employed, 2-10, 11-50, 51-200, 201-500, 501-1,000, 1,001-5,000
Q. What languages does Vagaro support?
Vagaro supports the following languages:
English
Q. Does Vagaro support mobile devices?
Vagaro supports the following devices:
Android (Mobile), iPhone (Mobile), iPad (Mobile)
Q. What other apps does Vagaro integrate with?
Vagaro integrates with the following applications:
Google Calendar, Gusto, Instagram, Meta for Business, Microsoft Excel, Microsoft Outlook, Quickbooks Online, WordPress, Xero, Zoom Meetings
Q. What level of support does Vagaro offer?
Vagaro offers the following support options:
Email/Help Desk, FAQs/Forum, Knowledge Base Software, Phone Support, 24/7 (Live rep), Chat
Related categories
See all software categories found for Vagaro.