About UpKeep
UpKeep is an Asset Operations Management solution that helps businesses scale by giving every Maintenance and Reliability team the tools and information they need to run Operations efficiently and effectively. A cloud-based CMMS (computerized maintenance management system) designed to be used on mobile devices and suitable for a range of industries including manufacturing, construction, distribution, warehousing, utilities, hotels, restaurants, food processing, churches, education, and more. The system allows users to manage maintenance planning and work orders on-the-go, with tools for work order creation, prioritization, signature capture, image annotation, asset data import, barcode scanning, inventory management, chat & collaboration, invoice creation, and more.
UpKeep allows users to create custom work orders for multiple purposes, such as creating checklists and measuring values, using templates and form items. Files, pictures, and parts can all be added to tasks, and users can prioritize work orders according to their urgency. Work orders and invoices can be created in PDF format, and emailed or printed. Asset data can be imported into UpKeep from existing records, and barcodes assigned to parts or assets, which can be scanned to add them into work orders. Users can create recurring schedules for preventative maintenance, and reserve or schedule individual parts to be used for specific work orders. Inventory can be managed by location, and part history tracking allows users to see where each part has been used.
UpKeep automatically sends users push notifications and alerts in real time to inform them of any task updates or issues with equipment. Sensors can be integrated to enable real-time asset monitoring, and users can create triggers to automatically generate maintenance requests when specific conditions are reached. More than 50 different sensor types are supported, and users can view detailed reports of sensor data, such as humidity, tilt, temperature, and more. UpKeep also allows users to collaborate with real-time in-app chat for discussing issues or sharing updates, and reports on completed tasks, spend, and any recurring issues.
Pricing starting from:
$45.00/month
Free Version

Free Trial

Subscription
Top 5 alternatives to UpKeep
Key benefits of UpKeep
Notifications and alerts are generated in real time, to inform users of any updates to tasks and asset failures.
Work orders can be customized to track notes, create checklists, and measure values, with the ability to set priority levels and add pictures, files, or parts to each individual task.
Data on existing assets can be imported, and users can scan barcodes on assets or parts to add them to work orders, reserve and schedule parts to be used in maintenance, and track part histories.
Branded, customized request portals can be created to allow requests to be made by anyone, from any device, with notifications for new requests, and the ability to track request statuses in real time.
Sensors can be integrated with UpKeep, allowing users to monitor assets in real time, define conditions to automatically trigger maintenance requests, view detailed sensor reports, and more.
Typical Customers
Freelancers

Small Businesses

(2-50)

Mid-size Companies

(51-500)

Large enterprises

(500 and more)
Markets
Australia, Brazil, Canada, China, Germany , United Kingdom, Ireland, India, Japan, Mexico, New Zealand, United States, British Virgin Islands, U.S. Virgin Islands, South Africa and 10 others
Supported Languages
Chinese, English, French, Spanish
Pricing starting from:
$45.00/month
Free Version

Free Trial

Subscription
Top 5 alternatives to UpKeep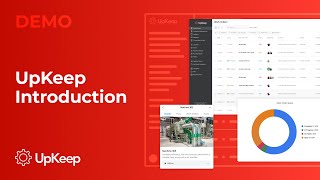 Total features of UpKeep: 192
API
Access Controls/Permissions
Accounting Integration
Activity Dashboard
Activity Tracking
Alerts/Notifications
Appointment Management
Appointment Scheduling Software
Archiving & Retention
Asset Accounting
Asset Lifecycle Management
Asset Planning
Asset Tracking Software
Audit Management
Audit Trail
Autofill
Automated Scheduling
Barcode / Ticket Scanning
Barcode Printing
Barcode Recognition
Barcoding/RFID
Benchmarking
Billing & Invoicing
Bills of Material
Built-in Accounting
CRM Software
Calendar Management
Calibration Management Software
Check-in/Check-out
Class Scheduling
Code Enforcement Software
Collaboration Tools
Commercial Properties
Compliance Management
Compliance Tracking
Components Tracking
Configuration Management
Contact Database
Contract/License Management
Cost Tracking
Customer Database
Customizable Fields
Customizable Forms
Customizable Reports
Customizable Templates
Data Import/Export
Data Visualization Software
Depreciation Management
Digital Signature Software
Dispatch Management
Disposal Management
Document Management Software
Document Storage
Document Templates
Downtime Tracking
Drag & Drop
ERP
Electronic Signature
Employee Scheduling Software
Energy Management Software
Equipment Maintenance Software
Equipment Management
Equipment Tracking
Facility Asset Management
Facility Management Software
Facility Scheduling
Failed Inspection Tracking
File Storage
Fixed Asset Management Software
For HVAC Companies
For Mechanical Equipment
For Schools
Forecasting
Forms Creation & Design
Forms Management
Fuel Tracking
Full Text Search
GPS
Historical Reporting
IT Asset Management Software
IT Asset Tracking
Image Capture
Incident Management Software
Inspection Management
Inventory Auditing
Inventory Control Software
Inventory Management Software
Inventory Optimization Software
Inventory Tracking
Invoice Management
Item Management
Job Costing Software
Job Management
Key & Lock Management
Kitting
Labor Cost Reporting
Location Tracking
Logbook Tracking
MES
Maintenance Management Software
Maintenance Scheduling
Manuals
Manufacturing Inventory Management Software
Map Creation
Material Requirements Planning
Mobile Access
Mobile Signature Capture
Monitoring
Multi-Channel Management
Multi-Location
Offline Access
Online Booking
Online Time Clock
Order Management Software
Order Tracking
Parts Management
Payment Collection in the Field
Performance Metrics
Predictive Maintenance
Preventive Maintenance Software
Prioritization
Process/Workflow Automation
Procurement Management
Product Identification
Production Scheduling Software
Productivity Analysis
Project Management Software
Purchase Order Management
Purchasing & Receiving
QR Codes
Quality Control
Quality Management Software
Quotes/Estimates
Real Time Analytics
Real Time Data
Real Time Monitoring
Real Time Notifications
Real Time Reporting
Real Time Synchronization
Real-time Scheduling
Real-time Updates
Receiving/Putaway Management
Recurring Appointments
Reminders
Remote Access/Control
Reorder Management
Repair Tracking
Report Templates
Reporting & Statistics
Reporting/Analytics
Requisition Management
Reservations Management
Residential Properties
Retail Inventory Management Software
Returns Management
Root Cause Analysis
Routing
SKU/UPC Codes
Safety Management Software
Scheduling Software
Search/Filter
Self Service Portal
Serial Number Tracking
Service History
Service Request Management
Software License Management
Space Management Software
Status Tracking
Subcontractor Management
Supplier Management
Supply Chain Management Software
Tagging
Task Management Software
Task Scheduling
Technician Management
Template Management
Third Party Integrations
Tire Management
Traceability
Trend Analysis
User Management
Vehicle Information
Vendor Managed Inventory
Vendor Management Software
Version Control
Visitor Management Software
Warehouse Management Software
Warranty Tracking
Work History
Work Order Creation
Work Order Management
Workflow Management Software
IFS Cloud
#1 Alternative to UpKeep
A composable enterprise application delivering ERP, Service Management and Enterprise Asset Management capabilities on...
MEX Maintenance
#2 Alternative to UpKeep
MEX Mobile allows users to manage maintenance and work orders on-the-go. Providing quick and centralized access to...
Fiix
#3 Alternative to UpKeep
Fiix is the only cloud-based maintenance management platform helping teams manage assets, work orders and parts with...
Hippo CMMS
#4 Alternative to UpKeep
Hippo CMMS is a simple, user friendly maintenance software suitable for businesses in manufacturing, healthcare,...
Customer Support Software
---
Already have UpKeep?
Software buyers need your help! Product reviews help the rest of us make great decisions.
Showing 5 reviews of 1,243
Industry: Real Estate
Company size: 11-50 Employees
Used

Daily

for

1-5 months

Review Source
Overall rating
Value for Money

Ease of Use

Customer Support Software

Likelihood to recommend

10.0

/10
Crucial Team Management
Reviewed on 29/07/2019
This creates the foundation for extensive maintenance records, historical tracking of problems,...
This creates the foundation for extensive maintenance records, historical tracking of problems, inventory, and more. It allows you to monitor your entire portfolio on a macro and micro level.
Pros
Functionality. This cloud-based task manager functions at the level that works for you. Whether you're assigning basic tasks at a complex you own and manage or inspecting individually tagged pieces of hardware this is essential. The accountability from a required signature showing this task has been done is reassuring. Should there be a hang-up or question UpKeep's customer service is there to help you through it.
Cons
The initial challenge is determining the depth at which to utilize this software most effectively. Whenever an organization chooses to go with a task manager, it is only effective as the degree to which your staff buys into it.
Reasons for Choosing UpKeep
As we grew we needed better tracking and filtering. We lacked the ability to pull the reports we needed before.
Reasons for Switching to UpKeep
The tailored approach to real estate.
Response from UpKeep Technologies
Hi Dirk,
Thank you for taking the time to leave a review for UpKeep! We're so happy to hear that UpKeep is serving your team for tasks and projects big & small.
The fact that the signature feature has provided a layer of accountability for your team is amazing! We're glad that the ability to historically track your work at a micro and macro level is helping you take the team to the next level.
If you ever do need assistance in developing your maintenance program using UpKeep, feel free to reach out to your dedicated Customer Success Manager. Our team will follow up with you to connect your team to this dedicated resource.
Thank you again for leaving us a great review. We really do take and appreciate your feedback seriously!
Industry: Religious Institutions
Company size: 51-200 Employees
Used

Daily

for

Free Trial

Review Source
Overall rating
Value for Money

Ease of Use

Likelihood to recommend

9.0

/10
Perfect CMMS for my Needs
Reviewed on 13/08/2020
Using Upkeep has been an easy process, and it helps keep everything in one place. I also like the...
Using Upkeep has been an easy process, and it helps keep everything in one place. I also like the fact that our Operations Manager sees everything that I do, from creation of work orders, to updates, and completion of work orders.
Pros
The free features are perfect for my use. My day is all about work orders, and being able to manage these work orders easily makes my day easier. We used to use paper work orders, which I had to fill out, file, and then track in another file. I would then need to create a separate report to send to the property team for review. I like having the ability to have everything in one place, without having to create so many separate reports.
Cons
Nothing about this software is difficult to use. I do wish more was offered in the free version, such as reporting. I was able to use it during the free trial, but now am using the free version, in which reporting is only available in paid versions. I understand that this is how the company makes money, and I will be making the switch to a paid version when it is approved in our new budget.
One thing that bugs me and hope gets fixed, is during the work order creation. I have over 120 locations and sub-locations. When I create a work order and choose the location, you should be able to begin typing the location in the box and it should self-populate the box. Right now, only the main locations will self-populate, not the sub-locations. I only have three main locations, and all the rest are sub-locations, so I have to scroll to search for the exact location I need. It's nothing major, but just an annoyance, and I hope this will be fixed soon so that any location will self-populate the box when you begin typing it.
Reasons for Switching to UpKeep
Pricing was better for what you get. ManWinWin was way to technical, and made more for factories. Mapcon may have worked and it seemed to be pretty user-friendly as well, and I did try their free trial, but it kept crashing my computer every single time.
Industry: Banking
Company size: 2-10 Employees
Used

Weekly

for

1-5 months

Review Source
Overall rating
Value for Money

Ease of Use

Customer Support Software

Likelihood to recommend

7.0

/10
Great tool to Manage your Assets
Reviewed on 09/10/2022
Our overall experience using UpKeep is very good because this solution has provided accountability...
Our overall experience using UpKeep is very good because this solution has provided accountability and transparency in the use of our assets (owned and rented)
Pros
This is a great solution to manage the assets, we were having issues controlling the location and distribution of our rented laptops and electronic equipment provided to consultants, after implementing the solution we were able to locate, manage and renew our equipment without effort. We also use it to track work orders because their reporting capabilities work very good with out ERP.
Cons
The main con would be its price, $45 per user is a little high for many small businesses budget. Since this is an important tool the training in using it is a little hard but necessary. In addition we believe the permissions management needs a little more work.
Reasons for Choosing UpKeep
We made the switch because we needed a robust application that were able to track our assets and work with our ERP.
Reasons for Switching to UpKeep
We have chosen UpKeep because in our analysis the cost / benefit ratio was the highest.
Industry: Food Production
Company size: 501-1,000 Employees
Used

Daily

for

6-12 months

Review Source
Overall rating
Value for Money

Ease of Use

Customer Support Software

Likelihood to recommend

10.0

/10
Up keep review
Reviewed on 07/10/2022
Pros
The up keep tools used daily by me because it give me best experience in meeting schedule and give permission to the other people help me keep track of data and it has all the feature where some of the other other popular apps don't have it give the best UI and tools use daily
Cons
There nothing to say about the app it even give the mobile access to everyone that's the best part
Industry: Tobacco
Company size: 201-500 Employees
Used

Daily

for

1+ year

Review Source
Overall rating
Value for Money

Ease of Use

Customer Support Software

Likelihood to recommend

10.0

/10
UPkeep, Easy and Powerful
Reviewed on 04/11/2022
Overall it has been a great addition to the maintenance toolbox
Overall it has been a great addition to the maintenance toolbox
Pros
The ease of use and training of new users. The use with Ipads has made record keeping much more secure and simple.
Cons
The difficulty with using the app on anything but Apple projects and Goggle Chrome on a PC. This has created some hurdles to overcome for us.
UpKeep FAQs
Below are some frequently asked questions for UpKeep.
Q. What type of pricing plans does UpKeep offer?
UpKeep offers the following pricing plans:
Starting from: $45.00/month
Pricing model: Free Version, Subscription
Free Trial: Available
Starter: $45 per user, per month (billed annually). Professional: $75 per user, per month (billed annually). Business Plus: $120 per user, per month (billed annually). Enterprise plans are available on request.
Q. Who are the typical users of UpKeep?
UpKeep has the following typical customers:
Self Employed, 2-10, 11-50, 51-200, 201-500, 501-1,000, 1,001-5,000
Q. What languages does UpKeep support?
UpKeep supports the following languages:
Chinese, English, French, Spanish
Q. Does UpKeep support mobile devices?
UpKeep supports the following devices:
Android (Mobile), iPhone (Mobile), iPad (Mobile)
Q. What other apps does UpKeep integrate with?
UpKeep integrates with the following applications:
Azuga Fleet, ClearBlade, Coupa Business Spend Management, Linxup, Looker, Microsoft Azure, Microsoft Excel, Microsoft Power BI, Microsoft Teams, Mingo, Motive, Okta, One Step GPS, OneLogin, Procore, QuickBooks, Samsara, Slack, Tableau, Titan GPS, Workato, Xero, Zapier, Zendesk Suite
Q. What level of support does UpKeep offer?
UpKeep offers the following support options:
Email/Help Desk, FAQs/Forum, Knowledge Base Software, Phone Support, 24/7 (Live rep), Chat
Related categories
See all software categories found for UpKeep.