LiveChat
Customer service software that boosts online sales.
About LiveChat
LiveChat is an easy-to-use chat platform with many powerful features designed to provide quick and effective customer support. It offers software solutions to manage business communications, generate leads, and sell online. It's intuitive, easy to use, and fully customizable to naturally blend in with any website. A number of features inside the platform make it a powerful tool to win over customers.
LiveChat seamlessly integrates with 200+ services. Integrations with CRM systems allow for storing customer information in one place and streamlining customer service. It works with payment services, such as PayPal or Stripe, allowing customers to make payments directly from the chat window. It's compatible with Mailchimp, Autopilot, and Google Ads for easy setup of promotional campaigns. It also integrates with popular messaging platforms, such as WhatsApp, Twitter, and Facebook Messenger. It means that customers can get in touch via their preferred medium, while businesses can provide support from the LiveChat app. Brands can respond to customer inquiries quickly, efficiently, and in a way that's tailored to customers' needs. Additionally, with LiveChat's advanced analytics and reporting capabilities, you can track customer conversations across different messaging platforms to gain valuable insights into customer behavior. Seamless integrations mean that customer service is more efficient and less time-consuming, which is essential for businesses to increase their sales.
With LiveChat, customer service agents can handle multiple chat sessions simultaneously, use canned responses to frequently asked questions, and add chat tags to easily spot popular inquiries. LiveChat can also proactively offer visitors help before they reach out to the support team. It results in better customer satisfaction and closed sales.
LiveChat also offers real-time analytics for valuable insights into how the support team performs. It helps to identify areas for improvement. You can track the number of inquiries received, response times, and the average number of inquiries per team member. Additionally, you can analyze customer behavior to further understand their needs and preferences. This data can be used to optimize the customer service process, helping your team deliver better results.
LiveChat's powerful features and capabilities have made it popular among over 36,000 customers in 150 countries. With its comprehensive suite of products, businesses are sure to deliver the highest level of customer service and get the best sales result.
LiveChat offers a full suite of products, which include a ticketing system, chatbots, and a self-knowledge base. A ticketing system allows for more accessible manage customer messages and improves collaboration within teams. Repeatable inquiries can be handled easily with chatbots, which are easy to build and launch without coding. As for the self-knowledge base, brands can quickly build it for fast and effortless self-service.
---
Key benefits of LiveChat
- Achieve a 5 times higher conversion rate, 50% more leads, and a 16 times higher average session value. (source)
- Connect LiveChat with your favorite tools by choosing from 200+ integrations, and create the ultimate customer-centric experience. Manage everything from the LiveChat app and connect with customers regardless of their communication channels.
- Streamline your customer service by balancing AI automation with the human touch. Let chatbots generate leads, create help tickets, and chat across messaging channels.
- Capture leads and make buying easy by showing off your products with product cards, and let customers buy inside the chat.
- Solve customer problems proactively by anticipating questions and responding faster. Create experiences customers will love and easily achieve 97% customer satisfaction.
- Keep track of your customer service and sales team performance. Manage your team with ease thanks to extended reports and supervision features. Spot improvements, boost productivity, and enjoy more sales.
---
Images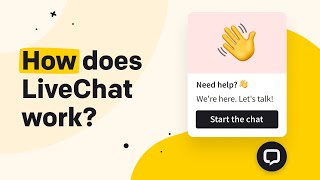 Not sure about LiveChat?
Compare with a popular alternative
TextBoom
#1 Alternative to LiveChat
TextBoom is a cloud-based SMS marketing solution for small to medium businesses, which helps optimize sales and...
TeamSupport
#2 Alternative to LiveChat
TeamSupport's Support software is specifically designed to provide businesses with the context needed to effectively...
Google Chat
#3 Alternative to LiveChat
Google Chat is a communication software that helps businesses of all sizes and non-profit organizations collaborate on...
Freshchat
#4 Alternative to LiveChat
Freshchat is a modern messaging software built for customer support teams to talk and customers on the website, mobile...
Customer Support Software
---
Already have LiveChat?
Software buyers need your help! Product reviews help the rest of us make great decisions.
Showing 5 reviews of 1,569
Industry: Information Technology & Services
Company size: 51–200 Employees
Used

Weekly

for

1+ year

Review Source
Overall rating
Value for Money

Ease of Use

Customer Support Software

Likelihood to recommend

10.0

/10
Easily Increase Customer Satisfaction and Engagement! Fast and Powerful Live Chat
Reviewed on 04/03/2023
LiveChat is a great tool for customer service. It allows customers to quickly and easily get...
LiveChat is a great tool for customer service. It allows customers to quickly and easily get answers to their questions or provide feedback, all while having the convenience of being in their own homes. The chat feature makes it easy to talk with representatives who are knowledgeable and ready to help solve any issue that arises. Many companies also offer additional features such as file sharing, automated responses, and canned messages which make communicating even easier. LiveChat's customer satisfaction ratings are quite high due to its ease of use and helpfulness when it comes to resolving issues quickly. Additionally, I find that the reporting capabilities offered by LiveChat allow me to keep track of trends in my customer base since I can see how many people have used the chat feature during certain time frames. All in all, LiveChat is an excellent tool for providing fast and efficient customer service without sacrificing quality or professionalism.
Pros
LiveChat is a powerful tool for businesses of all sizes looking to improve their customer service and sales performance. It allows companies to communicate with customers in real-time via chat, increasing responsiveness and efficiency while also providing valuable insights into customer needs and preferences. LiveChat can be used to provide helpful solutions quickly, handle complaints promptly, answer inquiries around the clock even when no one is available at the office, or upsell products through personalized recommendations. With features like automated messages, canned responses and proactive invitations to chat, LiveChat empowers businesses to offer superior service that leaves customers feeling heard and valued.
Cons
LiveChat is its ability to connect with third-party applications like CRM systems which gives you better insights into customer behavior as well as providing in-depth analytics about their interactions with your brand across multiple channels such as livechat conversations, emails, SMS etc., helping inform future strategies.
Industry: Consumer Services
Company size: 2–10 Employees
Review Source
Overall rating
Value for Money

Ease of Use

Customer Support Software
LiveChat is Great!
Reviewed on 04/11/2015
We've been using LiveChat for almost 2 years now. It's been so helpful to see who's on our site...
We've been using LiveChat for almost 2 years now. It's been so helpful to see who's on our site when they are actually there and to be able to help them when they need it (which keeps them from straying)! We are an incorporation services provider and people often have lots of questions when they are searching for a provider in this field. Though we have the answers to most of those questions on our site, people often want to clarify or they may feel lost when ordering. Having LiveChat makes it easier for our potential clients to reach out to us without having to leave our site or even to pick up the phone. Instant gratification! Thanks to LiveChat, we've been able to quickly convert those people with questions into clients.
Pros
Visitor data is so very helpful for us. When a client has an issue while ordering, it helps us to know what browser they are using. It is also quite helpful for us to know where they are connecting from (country or state) as this can determine what kinds of services they need.
Also included with the visitor data are the IP, and the pages visited (and for how long they stayed on those pages). This lets us know about where the visitor decided to leave and what they were looking for...and if we feel the need, we can offer to chat with them (rather than waiting for them to start one with us).
LiveChat also makes a verbal announcement when we get a visitor to the site, informing us as to whether they are "new" or "returning" visitors. There is also a verbal announcement when someone initiates a chat ("incoming chat").
The ticket feature is also helpful. When the office is closed or if the technician is away from their desk, the clients can leave a message for us to follow-up later.
Cons
It would be very helpful if the visitor data were logged and saved for reporting purposes via LiveChat. This historical data might prove useful to us when making changes to our site.
It would be nice if the incoming chat would also pop-up a separate window. Sometimes I have my volume down or off when I am on the phone and I've almost missed chats that way.
Industry: Education Management
Company size: 11–50 Employees
Used

Monthly

for

1+ year

Review Source
Overall rating
Ease of Use

Likelihood to recommend

10.0

/10
Customers prefer a LIVE CHAT
Reviewed on 19/04/2023
I've used LiveChat or some version of chat with Verizon, Amazon, Adidadas and other companies that...
I've used LiveChat or some version of chat with Verizon, Amazon, Adidadas and other companies that address my question/issues quicker than email correspondence. It's always a pleasant experience to have someone resolve your issue in a positive way and feeling like your voice is heard. It's much easier to wait and do other tasks on your computer while corresponding with a LiveChat operator. It's conventimuch more convenient than a phone call.
Pros
I am an avid user of Livechat when it's available. I prefer it over emailing the customer service. Having a bot chat with you at first is okay, but having a real person with a name to serve you is even better. LiveChat enables a customer to feel more imporant.
Cons
I dislike having an AI bot at the beginning of a LiveChat to discover your issue; however, I understand it expedites which deparment the customer needs to go to. I believe all LiveChats should link to a real person to chat LIVE.
Industry: Consumer Goods
Company size: 2–10 Employees
Used

Daily

for

2+ years

Review Source
Overall rating
Value for Money

Ease of Use

Customer Support Software

Likelihood to recommend

5.0

/10
Only gotten worse over time..
Reviewed on 16/02/2020
Great for connecting with customers... When it actually works.
Great for connecting with customers... When it actually works.
Pros
Okay, I really loved this software at first. But then they started to change and add things, and every time they have something technical going on or update their software, the app stops working on my phone. With zero resolution from their 'technical team'.
In general, the software idea is great, but the execution and functionality aren't so great.
Cons
I have had technical issues with this software too many times now. The first time when they updated their app and software, the app stopped working on my phone. I contacted the tech team and they had to restore me to the older version in order for it to work. Later on, just recently, same thing - app stops working, I contact technical team and they can't do anything and tell me it is my phone.. Even though nothing had changed with my phone. I grew up around professional technicians my whole life, and am well aware of how these softwares work, and the technical team honestly does not know what they are doing there. This, this created an issue where I cannot provide the adequate customer service I need to for my business. I am switching to another chat provider next week, have had enough of the issues with this one. Not worth the money when there are better chat softwares out there.
Industry: Consumer Goods
Company size: 201–500 Employees
Used

Daily

for

6-12 months

Review Source
Overall rating
Ease of Use

Likelihood to recommend

9.0

/10
Efficient Customer Support Made Easy
Reviewed on 05/03/2023
Pros
One of the things I love most about this software is its real-time support feature, which allows customers to receive immediate assistance with their inquiries or issues. This has significantly improved their satisfaction levels, as they no longer have to wait for an email or phone call response.Another feature that has been invaluable is the ability to capture and store customer information. With livechat software, I can provide personalized support to customers by referencing previous conversations and understanding their needs. I also appreciate how the software integrates with other CRM tools, which allows me to have a more comprehensive understanding of my customers.The chatbots have been a lifesaver in handling simple inquiries, which frees up time to handle more complex issues. The pre-chat surveys have also been a great addition, as they allow me to gather relevant information from my customers before the chat even begins, making the support process faster and more accurate. And the file sharing feature has made it easy for customers to send screenshots or other relevant information, which helps to reduce confusion and misunderstandings.Also it provides us data through which we are able to identify our strengths, weaknesses, and potential pitfalls in our communication with customers.
Cons
I have noticed a couple of things that I don't particularly like about the platform. Firstly, the pricing can be quite expensive, especially for small businesses or startups that may not have the budget to invest in a high-priced solution. Secondly, while the software is packed with powerful features, it can be quite complex to set up and configure initially. Lastly, while the software generally runs smoothly, I have experienced occasional connectivity issues or downtime, which can be frustrating when trying to provide real-time support to customers.
LiveChat FAQs
Below are some frequently asked questions for LiveChat.
Q. What type of pricing plans does LiveChat offer?
LiveChat offers the following pricing plans:
Starting from: $24.00/month
Pricing model: Subscription
Free Trial: Available
LiveChat is offered as SaaS - paid recurrently, price depends on number of live chat operators using the service. LiveChat is available in 4 plans: Starter - from $20 per seat/month billed annually, or $24 month-to-month Team - from $41 per seat/month billed annually, or $49 month-to-month Business - from $59 per seat/month billed annually, or $69 month-to-month Enterprise - Custom, contact us for pricing details
Q. Who are the typical users of LiveChat?
LiveChat has the following typical customers:
Self Employed, 2–10, 11–50, 51–200, 201–500, 501–1,000, 1,001–5,000
Q. What languages does LiveChat support?
LiveChat supports the following languages:
Arabic, Chinese, Czech, Danish, Dutch, English, Finnish, French, German, Hebrew, Hungarian, Indonesian, Irish, Italian, Japanese, Korean, Norwegian, Polish, Portuguese, Russian, Spanish, Swedish, Thai, Traditional Chinese, Turkish, Ukrainian
Q. Does LiveChat support mobile devices?
LiveChat supports the following devices:
Android (Mobile), iPhone (Mobile), iPad (Mobile)
Q. What other apps does LiveChat integrate with?
LiveChat integrates with the following applications:
1CRM, 1Password, 2way, ActiveCampaign, Adobe Business Catalyst, Adobe Commerce, Asana, Basecamp, Benchmark Email, BigCommerce, Campaign Monitor, Capsule, Chatbot, Clearbit, Close, Constant Contact, CoreCommerce, Desk.com, Dropbox Business, Drupal, Ecwid, Evernote Teams, Firefly, FreshBooks, Freshdesk, FullContact, GetResponse, GitHub, GoDaddy Website Builder, Gold-Vision CRM, Google Ads, Google Analytics 360, Google Contacts, Google Docs, Grasshopper, Helpmonks, Highrise, HipChat, HubSpot CRM, HubSpot Marketing Hub, IRIS CRM, Instapage, JIRA Service Management, Jimdo, Jira, Join.Me, Joomla, Keap, Kissmetrics, Kommo, Landingi, LeadSquared, LemonStand, Magentrix, Mailchimp, Mailigen, Meta for Business, Microsoft To Do, Mixpanel, Nutshell, Omnistar Affiliate, OpenCart, Ortto, Pinnacle Cart, Pipedrive, Playvox, Podio, PrestaShop, ProProfs Knowledge Base, ProProfs LMS, ProjectManager.com, Rescue, Salesforce Sales Cloud, Segment, Shift4Shop, Shopify, Shoplo, Slack, SparkPay, Squarespace, Stripe, SugarCRM, Talkdesk, TeamViewer, Todoist, Toggl Track, Trello, Triggerbee, Twilio, Twitter, Unbounce, Volusion, WHMCS, Webflow, Weebly, WhatConverts, WhatsApp, Wishpond, Wix, WooCommerce, Woopra, WordPress, X-Cart, Zapier, Zen Cart, Zendesk Sell, Zendesk Suite, Zoho CRM, Zoom Meetings, ekmPowershop, elevio, iContact
Q. What level of support does LiveChat offer?
LiveChat offers the following support options:
Email/Help Desk, FAQs/Forum, Knowledge Base Software, Phone Support, 24/7 (Live rep), Chat
Related categories
See all software categories found for LiveChat.