100% free CRM, collaboration, and communication tool suite
About Bitrix24
Bitrix24 is a free collaboration platform. Bitrix24 serves users by providing tools such as a CRM, document management, tasking, time management, and project management integrated in a social-style environment which incorporates user profiles, liking, commenting, instant messaging, and content sharing.
Bitrix24 aims to provide a practical solution for managing a company online. From clock-in at the start of the day through tasks, processing sales, and finishing with reporting, there are flexible and precise tools to handle each operation.
Over 10 million companies rely on Bitrix24 in 186 countries.
Bitrix24 simplifies communications with social features such as liking and comments and automated processes such as notifications, subscriptions to discussions or groups, and assisted reporting.
This progressive platform unites robust modules performing the full range of intranet services:
— workgroups (projects) with tasks, calendars, files, wiki, photo gallery and conversations;
— company services such as visual structure, absence chart, task and work time reporting, employee directory;
— time management tools with check-in/-out mechanism, daily planner, and regular work reports;
— time planning feature with calendars, event scheduler and meeting manager (with outlook and CalDAV sync)
— document libraries with flexible permission systems, versioning, and WebDAV support
— social search that covering all system objects including uploaded documents, tasks, and events. Results conform to access permissions;
— CRM with email integration and visual business process construction tools.
By connecting these powerful tools in a highly intuitive social layer, Bitrix24 provides a solution that is ideal for small business and suitable for organizations of any size.
Key benefits of Bitrix24
Bitrix24 provides an communications and collaboration platform that covers internal operations as well as external relations. Having the full tool set in a single cloud service provides technical advantages like unified search and human-facing advantages like the need only to acclimate to one user interface. Bitrix24 lets you:
— store, search, share and discuss documents and other objects;
— coordinate schedules, tasks, and projects;
— manage external communications via CRM and extranet all with minimal navigation.
Typical Customers
Freelancers

Small Businesses

(2-50)

Mid-size Companies

(51-500)

Large enterprises

(500 and more)
Markets
Afghanistan, Albania, Algeria, American Samoa, Andorra and 225 others
Supported Languages
Chinese, English, French, German, Indonesian and 9 others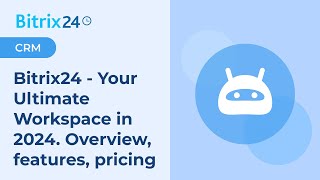 Total features of Bitrix24: 414
API
Access Controls/Permissions
Account Management Software
Activity Dashboard
Activity Tracking
Activity/News Feed
Agenda Management
Alerts/Notifications
Applicant Tracking Software
Appointment Management
Approval Process Control
Approval Workflow
Archiving & Retention
Assignment Management
Attendance Tracking Software
Attendee Management
Audience Targeting
Audio/Video Conferencing
Audit Trail
Auto Update
Auto-Dialer
Auto-Responders
Automated Attendant
Automated Quoting
Automated Routing
Automated Scheduling
Automatic Backup
Automatic Call Distribution
Availability Management
Backup and Recovery
Bar Chart
Batch Communications
Batch Processing
Benchmarking
Billable & Non-Billable Hours
Billing & Invoicing
Biometric Recognition
Biometrics
Blogs
Brainstorming
Business Process Automation
Business Process Control
CAN SPAM Compliance
CRM Software
Calendar Management
Calendar Sync
Calendar/Reminder System
Call Center Management
Call Conferencing
Call List Management
Call Logging
Call Management
Call Monitoring
Call Recording Software
Call Routing
Call Scheduling
Call Scripting
Call Transfer
Caller ID
Caller Profiles
Campaign Analytics
Campaign Management Software
Campaign Personalization
Canned Responses
Capacity Management
Case Management Software
Cataloging/Categorization
Channel Management Software
Chat/Messaging
Class Scheduling
Click Tracking
Client Database
Client Management
Client Portal
Client Tracking
Collaboration Tools
Color Codes/Icons
Commenting/Notes
Commission Management
Committee Management
Communication Management
Computer Telephony Integration
Conferencing
Configurable Workflow
Confirmation/Reminders
Contact Database
Contact Management Software
Content Delivery
Content Library
Content Management System (CMS) Software
Content Publishing Options
Contractor Management Software
Conversation Intelligence
Create Subtasks
Customer Database
Customer Engagement Software
Customer History
Customer Segmentation
Customer Service Analytics
Customer Support Software
Customizable Branding
Customizable Dashboard
Customizable Fields
Customizable Forms
Customizable Invoices
Customizable Templates
Customization
Daily Reports
Dashboard Software
Data Extraction Software
Data Import/Export
Data Migration
Data Storage Management
Data Synchronization
Deal Management
Decision Support Software
Dependency Tracking
Design Management
Discount Management
Discussions/Forums
Distribution Management
Document Capture
Document Generation Software
Document Management Software
Document Storage
Donation Management Software
Donor Management
Drag & Drop
Drip Campaigns
Electronic Forms
Electronic Signature
Email Campaign Management
Email Distribution
Email Management Software
Email Marketing Software
Email Response Control
Email Templates
Email-to-Task Conversion
Employee Database
Employee Directory
Employee Management
Employee Photos
Employee Portal
Employee Profiles
Employee Recognition Software
Employee Scheduling Software
Event Calendar
Event Management Software
Event Scheduling
Event Triggered Actions
Expense Tracking
Feedback Management
File Management
File Sharing Software
File Storage
Financial Management Software
For AEC Industry
For Call Centers
For Cloud Phone Systems
For Financial Institutions
For IT Project Management
For Insurance Industry
For Mac Devices
For Nonprofits
For Religious Organizations
For Sales Teams/Organizations
For Small Businesses
For Startups
For Yoga/Pilates Studios
For iPad Devices
Form Builder
Forms Automation Software
Forms Creation & Design
Forms Management
Full Text Search
Gamification Software
Gantt/Timeline View
Geotargeting
Goal Management
Goal Setting/Tracking
Graphical Workflow Editor
Group Management
Group Scheduling
Guided Selling
HR Management
Help Desk Management
Hourly Billing
IVR/Voice Recognition
Idea Management Software
Import Tasks
Inbound Call Center
Integrated Business Operations
Interaction Tracking
Internal Chat Integration
Internal Meetings
Invoice Creation
Invoice History
Invoice Management
Issue Management
Issue Scheduling
Jobs Board
KPI Monitoring
Knowledge Base Management
Knowledge Management Software
Labor Forecasting
Landing Pages/Web Forms
Lead Capture Software
Lead Distribution
Lead Engagement
Lead Management Software
Lead Notifications
Lead Nurturing Software
Lead Qualification
Lead Segmentation
Learning & Development
Leave Tracking
List Management
Live Chat Software
Manual Dialer
Marketing Automation Software
Marketing Calendar
Mass Texting
Media Library
Meeting Management
Meeting Room Booking
Member Database
Member Directory
Member Portal
Membership Management Software
Message Personalization
Messaging
Milestone Tracking
Mobile Access
Mobile Optimized Emails
Multi-Campaign
Multi-Channel Communication
Multi-Channel Data Collection
Multi-Channel Marketing
Multi-Currency
Multi-User Collaboration
Multi-board
Negative Feedback Management
Office Suite
Offline Access
Offline Form
On-Demand Communications
On-Demand Recording
Onboarding Software
Online Booking
Online Booking Tools
Online Calendar
Online Forms
Online Invoicing
Online Payments
Online Punch Card
Online Store Builder
Online Time Clock
Online Voice Transmission
Opportunity Management
Outbound Call Center
PBX
Parent Task
Patient Communications
Payment Processing Software
Performance Management
Performance Metrics
Personalization and Behavioral Targeting Software
Phone Key Input
Pipeline Management
Policy Management Software
Portfolio Management
Pre-built Templates
Predictive Analytics Software
Predictive Dialer Software
Preview Functionality
Price and Cost Calculations
Pricing Management
Pricing and Cost Calculations
Prioritization
Private Network
Process Change Tracking
Process Modeling & Designing
Process/Workflow Automation
Product Catalog
Product Configurator Software
Product Roadmapping
Progress Tracking
Progressive Dialer
Project Management Software
Project Planning Software
Project Planning/Scheduling
Project Scheduling
Project Time Tracking
Project Tracking Software
Proposal Generation
Proposal Management Software
Prospecting Tools
Publishing Options
Punch card
Queue Management
Quotes/Estimates
ROI Tracking
Real Time Editing
Real Time Notifications
Real Time Synchronization
Real-Time Chat
Real-time Consumer-facing Chat
Real-time Updates
Records Management Software
Recurring Tasks
Recurring/Subscription Billing
Registration Management
Relationship Tracking
Renewal Management
Reporting & Statistics
Reporting/Analytics
Reporting/Project Tracking
Resource Management Software
Resource Scheduling
Responsive
Ring Groups
Roadmapping
Role-Based Permissions
Room Booking
Routing
Rules-Based Workflow
SEO Management
SIP Trunking
SMS Messaging
SSL Security
Sales Activity Management
Sales Analytics
Sales Approval
Sales Pipeline Management
Sales Reports
Scheduling Software
Screen Sharing Software
Search/Filter
Segmentation
Self Service Data Preparation
Self Service Portal
Service Level Agreement (SLA) Management
Shared Contacts
Social Marketing
Social Media Integration
Social Media Management Software
Social Promotion
Source Tracking
Spam Blocker
Sprint Planning
Staff Management
Status Tracking
Subscriber Management
Support Ticket Management
Support Ticket Tracking
Supports Scrum
Surveys & Feedback
Task Board View
Task Editing/Updating
Task Management Software
Task Progress Tracking
Task Scheduling
Task Tagging
Team Assignments
Team Calendars
Team Management Software
Telemarketing Management
Template Management
Templates
Text Editing
Text to Speech
Third Party Integrations
Third-Party Integration
Ticket Management
Time & Attendance
Time & Expense Tracking
Time Off Management
Time Tracking Software
Time Tracking by Client
Time Tracking by Project
Timesheet Management
To-Do List
Training Management
Transcripts/Chat History
Transfers/Routing
Two-Way Audio & Video
Unified Communications Software
Usage Tracking/Analytics
User Profiles
Utilization Reporting
Vacation/Leave Tracking
Variable Workforce
Version Control
Video Conferencing Software
Virtual Call Center
Virtual Extensions
Visual Analytics
Visual Workflow Management
VoIP Connection
VoIP Software
Voice Mail
Volunteer Management Software
WYSIWYG Editor
Web Forms
Web-based Deployment
Website Integration
Website Management
Widgets
Wiki
Win/Loss Analysis
Work Order Management
Workflow Configuration
Workflow Management Software
eCommerce Management
Zoho CRM
#1 Alternative to Bitrix24
Zoho CRM is a cloud-based customer relationship management (CRM) software that helps businesses of all sizes close...
Salesforce Sales Cloud
#2 Alternative to Bitrix24
Salesforce Sales Cloud is a cloud-based Customer Relationship Management (CRM) application from Salesforce. Sales Cloud...
HubSpot CRM
#3 Alternative to Bitrix24
Save valuable selling time with HubSpot CRM that takes care of all the little details from recording calls, logging...
Dropbox Business
#4 Alternative to Bitrix24
Dropbox Business is an off-site server for file syncing, storage and sharing which allows teams of all sizes to save...
Customer Support Software
---
Already have Bitrix24?
Software buyers need your help! Product reviews help the rest of us make great decisions.
Showing 5 reviews of 682
Industry: Market Research Software
Company size: 2–10 Employees
Used

Weekly

for

2+ years

Review Source
Overall rating
Value for Money

Ease of Use

Customer Support Software

Likelihood to recommend

7.0

/10
A Strong CRM for Growing Businesses and Sales Teams
Reviewed on 13/11/2022
Bitrix24 is a great CRM for advanced users and professional sales teams and marketers. For new...
Bitrix24 is a great CRM for advanced users and professional sales teams and marketers. For new users, it's important to highlight the learning curve to achieve the maximum results with this platform.
Pros
Bitrix24 has an extensive CRM module, where we can track and store the data we need about our leads and clients. Even though Bitrix24 offer other modules like Websites builder, the CRM is the feature I like the most about this great app.
Cons
Me and some members of my team felt Bitrix24 user interface was a little bit overwhelming compared to other CRM platforms out there. I believe Bitrix24 user interface could be simpler.
Industry: Financial Services Software
Company size: 10,000+ Employees
Used

Daily

for

1+ year

Review Source
Overall rating
Value for Money

Ease of Use

Customer Support Software

Likelihood to recommend

10.0

/10
Project management managed well with Bitrix24
Reviewed on 22/02/2021
Working with Bitrix24 has very many benefit, almost everything that i need is available in this...
Working with Bitrix24 has very many benefit, almost everything that i need is available in this software and i don't need to integrated it with other service or survey to make it a complete software. Storing document and files can be done easily within the software without having to use other cloud storage software.
Pros
Bitrix24 really has help me and my colleague managing task and project that we are running and collaborate. Communication the most important feature for collaborating project, and this software has provide us to have video calls and chat platform build-in inside the software. It helps us to connect easily with each others.
Cons
Work-time tracking is one of least tools that we don't ever use to measure our working time. As long as the work is done according to the time frame that has been decided, how long we are working online everyday is irrelevant. They better add milestone tracking rather than work-time tracking in my opinion.
Industry: Staffing & Recruiting
Company size: 51–200 Employees
Used

Daily

for

1+ year

Review Source
Overall rating
Value for Money

Ease of Use

Customer Support Software

Likelihood to recommend

9.0

/10
Bitrix24 is the best in teamwork
Reviewed on 14/02/2023
Bitrix24 is used as a centralized repository of information about prospects, customers, competitors...
Bitrix24 is used as a centralized repository of information about prospects, customers, competitors and as an internal social network to facilitate collaboration and documentation of relevant information between all areas of the company. It becomes our main information system because it has a powerful search tool that makes any query easier and faster. We also use work groups to segment information according to region or user level.
Pros
If your business is not that big or complicated, the free version will be enough. Easily integrate with other systems to automate marketing campaigns. Simplified functionality is a great way to publish information and communicate with all or a subset of users. You can include segments based on groups. Finding information on past records organized by company or contact can be helpful. The product is powerful and I think it is an excellent choice for projects that require a lot of communication, collaboration, content sharing and more. Projects that are more sales management/CRM oriented may not be fully supported, depending on each process and its integration needs with other databases or systems.
Cons
The functions for managing deals and sales pipelines are also a bit complicated compared to other cloud CRM vendors. We tried using this feature for a while, but it didn't fit our needs. Permissions have limited functionality. We tried to set up specific user types (to restrict access to CRM information) based on their own company/contact (basic stuff in CRM), but it is not possible. Sometimes the user interface of some parts of the system is too complex. It would be great if there was an opportunity to simplify some of this.
Industry: Staffing & Recruiting
Company size: 11–50 Employees
Used

Daily

for

1-5 months

Review Source
Overall rating
Value for Money

Ease of Use

Customer Support Software

Likelihood to recommend

2.0

/10
Bitrix24 - Team Lacks Sensitivity on Custom Reports - Highly Irresponsible Team
Reviewed on 02/05/2021
Bitrix24 has strong potential but sad to express, they are not a serious organization with its...
Bitrix24 has strong potential but sad to express, they are not a serious organization with its product development module is of still old age. Definitely Not at all a matured technology with the failure to understand basics if it comes to the custom tab. Humble request please understand and Learn the basics of sales, what is important aspects to measure in every organization in sales is employee performance and lead management efficiency,
The customer service you keep on banging your head but their support is like if they want they will give else you keep on reminding
Hope you understand and trust your customer's hard-earned money, understand their problems, help them grow with the right kind of solutions, rather than just with your patient reply, "SORRY we don't have this feature right now, new development request has been created."
Pros
When you are working on a sales CRM, the team's performance report is of utmost importance. I have been doing follow-ups for the last month and the reply is that as of now there is no such report in their system.
We are using it for our service industry. Just a disaster system, 2 years the money is sheer loss of money and more than that loss of trust and respect towards this brand who is least serious in considering the basics of employee daily/weekly/monthly performance report.
Cons
You check for any basic report you will not get. Their system cannot give reports based on your custom fields and thus the entire system fails to adhere to basic sales processes.
Their employee performance report is just an eyewash, they don't have an employee reporting structure at all, what the biggest disappointment.
Bitrix24 lacks sheer understanding of the basics of the sales process
Before any sales deal happens there are various stages towards that success first it begins with lead validation, if the lead is not validated then it's a sheer waste of time, effort, and energy.
So after lead validation, the mail is sent after that follow-up begins then its success or failure
Everyday sales team have to work on this process but sad to say No reporting structure at all
-Employees Lead Management (the chart is showing but not working in CRM ANALYTICS)
-Custom field tab reporting not there at all
-If you want to see entire sales employee's daily activities Bitrix24 does not has it at all
like how many leads validated, email sent, call made, task scheduling
-Employees time spent on Bitrix24 is not there on the std module, these are bare min basic features
-If you have dismissed an employee from an organization or any employee has left, you cannot remove that person from Bitrix24
-They don't have birthday greeting features for leads, it is only possible when they have done deals this is just a weird example.
-Your email bounce back no reports
Industry: Marketing & Advertising
Company size: 11–50 Employees
Used

Daily

for

6-12 months

Review Source
Overall rating
Value for Money

Ease of Use

Customer Support Software

Likelihood to recommend

8.0

/10
Bitrix24 - Good CRM for Small and Mid Business
Reviewed on 21/12/2022
Overall it's a good CRM to run your business. You will easily add and manage leads, attach files to...
Overall it's a good CRM to run your business. You will easily add and manage leads, attach files to them and add custom fields. Task tracking is focused on collaboration and does its job great. We use Bitrix to hire new workers and track analytics of the HR department
Pros
- Easy to use CRM for any needs- Audio Calls and Chats- Very easy to collaborate with shared tasks, files - Live feeds of events, you will be fully aware of all events in your company- In-depth marketing ananyltics with tracking sources of your leads
Cons
- It's not easy to integrate with HTML static websites, you will require development. The easiest way to add leads is to use webhooks- There is a lack of customization in reports, you can't create fully custom reports
Alternatives Considered
Kommo
Reasons for Switching to Bitrix24
Bitrix has free version, so you can try and use it for free for solving simple tasks. Price is very reasonable.
Bitrix24 FAQs
Below are some frequently asked questions for Bitrix24.
Q. What type of pricing plans does Bitrix24 offer?
Bitrix24 offers the following pricing plans:
A 30-day free trial is available, and a free plan for starter business tools, after which pricing is as follows: Cloud Basic: $61/mo Standard: $124/mo Professional: $249/mo On-premise Business: $2990 (one-time license) Enterprise: $24990 (one-time license)
Q. Who are the typical users of Bitrix24?
Bitrix24 has the following typical customers:
2–10, 11–50, 51–200, 201–500, 501–1,000, 1,001–5,000
Q. What languages does Bitrix24 support?
Bitrix24 supports the following languages:
Chinese, English, French, German, Indonesian, Italian, Japanese, Polish, Portuguese, Spanish, Thai, Traditional Chinese, Turkish, Vietnamese
Q. Does Bitrix24 support mobile devices?
Bitrix24 supports the following devices:
Android (Mobile), iPhone (Mobile), iPad (Mobile)
Q. What other apps does Bitrix24 integrate with?
Bitrix24 integrates with the following applications:
3CX, Apache OpenOffice, Asana, Asterisk, Authorize.Net, Azure Active Directory, Box, Braintree, DocuSign, Dropbox Business, Dropbox Paper, Evernote Teams, FreshBooks, Gmail, Google Analytics 360, Google Calendar, Google Docs, Google Drive, Jira, Jotform, LibreOffice, Mailchimp, Mailigen, Meta for Business, Microsoft 365, Microsoft Outlook, OneDrive, Operations Hub, PayPal, Pipedrive, Plivo, QuickBooks Online Advanced, Quickbooks Online, SendPulse, Stripe, SugarCRM, Time Doctor, UniSender, WordPress, Xero, Zadarma, Zapier, Zendesk Suite
Q. What level of support does Bitrix24 offer?
Bitrix24 offers the following support options:
Email/Help Desk, FAQs/Forum, Knowledge Base Software, 24/7 (Live rep), Chat
Related categories
See all software categories found for Bitrix24.